Posted by Eric Kahn on Aug 31st 2023
"Gas or electric?" That's often the first question people ask when planning a permanent patio heater installation.
There are advantages and disadvantages to both. More often than not, homeowners choose electric outdoor heaters while restaurants, clubs, and hotels choose gas outside heaters.
Read on to help determine the best way to warm your unique outdoor entertainment area.
Restaurants generally choose natural gas. Natural gas patio heaters operate at a lower utility cost (see below). Here in the San Francisco Bay Area, the fuel cost for gas patio heaters is 20% to 25% of the fuel cost of electric patio heaters sized to produce a similar amount of heat. That makes a significant difference for a restaurant that generates revenue by operating multiple outdoor heaters many days of the year, for many hours at a time.
In locations where several patio heaters are needed, gas may be more practical. If a service upgrade is needed in order to provide necessary energy, then upgrading a gas meter is a reasonably small job, while upgrading an electrical service is generally a large job.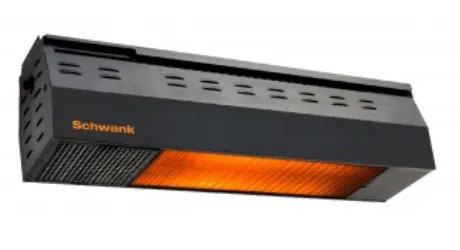 Here's an example to help you better understand how that works. Consider a 20' x 30' covered patio with a 10' ceiling needs at least six patio heaters to heat the whole area. Six 35,000 BTU gas heaters require a total input of 210,000 BTU, which typically requires 1" gas pipe (if the gas meter is less than 80 linear feet away.)
Six 6,000 watt electric heaters each require 25 amps and a total energy load of 150 amps at 240 volts. A typical home electrical service is 200 amps. If we look at the cost of operating those six heaters, at San Francisco Bay Area PG&E rates, 250 days a year, five hours a day, the difference in the utility cost between gas and electric is five figures annually.
Feeling & Seeing the Difference
Gas and electric heat feel different. Some people find the feeling of gas heat to be more comforting. There's something about a gas flame. Maybe it's a primordial reflex. We remember the caves and campfires of our ancestors.
Gas and electric outdoor heaters look different as well. Overhead gas patio heaters typically come in stainless steel and black finishes, are bulkier than overhead electric patio heaters, have significant combustible clearance requirements (depending on the heater), and can't be installed flush into a ceiling.
High-intensity overhead gas patio heaters, the kind with ceramic tiles that glow orange, such as SunPak, are typically on-off or may have two heat settings. Ceiling height needs to be at least 9'0", and for most models more, to install them. For applications where the bottom of the heater will be 9' or higher we suggest Schwank, 50,000 BTU patio heaters.
The exception to the over nine foot ceiling rule for gas outdoor heaters is the low-intensity overhead gas tube patio heaters by Calcana, which have a modulating control dial (50% to 100% power) and can be mounted under ceilings as low as 8'0" to 9'0".
In wide open areas, without a ceiling or wall from which to mount a patio heater, upright gas patio heaters are the best solution. Portable electric patio heaters don't create much heat outdoors under an open sky.
Also, please note that insects can be an issue for a gas patio heater that is not in frequent use. Wasps may mud up orifices. Spiders may cause obstructions with webbing. However, because of regular use, this is not typically a concern at restaurants.
Energy costs may matter less to homeowners who are spot heating a specific area, and may only use their heater(s) once or twice a week, or even once or twice a month. Additionally, electricity costs vary quite a bit around the country. They may even become zero for those who have high-capacity solar electric systems.
Electric outside heaters are thinner and have lower combustible clearance requirements than gas outdoor heaters. They can be tucked up and out of the way, maintaining architectural sight lines. Some electric patio heaters can even be flush mounted into a level ceiling. Ceiling heights for mounting electric outdoor heaters can be from 7'6" to 10', or higher with some dual-element patio heaters.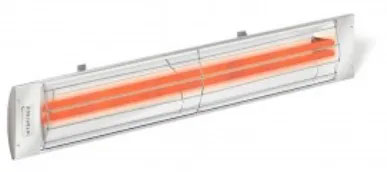 There are also more design options available with electric outdoor heaters that you can't get with gas. For example, Infratech has eight standard colors, in addition to bare stainless. They also have Motif decorative grills available, which add style to function.
Electric patio heaters also have more control options. These vary from on and off to an infinite control dial with 1% to 100% power settings. There are also controls available that can interface with a smart-home system or any wireless dimmer control. There are even electric-outdoor-heater systems that can be controlled from your phone using an app. You can adjust the power to your comfort.
Unlike gas outdoor heaters, insects won't clog an electric wall or ceiling mounted patio heater. Because there are fewer vulnerable parts, electric outdoor heaters generally require less maintenance.
The element of an electric patio heater is not disturbed by the wind, unlike the emitter of a gas patio heater. This means that your electric outdoor heater will still operate effectively in the wind, although your comfort may still be affected by wind chill.
Get a First Hand Experience
Before making a purchase decision, we encourage you to experience both gas and electric outdoor heaters, at restaurants and at your family's and neighbors' homes.
Choosing gas or electric outdoor heating is not only a decision about effectiveness. There are many differences to be considered and, sadly, many patio heaters are installed without good advice. Therefore, what you get from experiencing patio heaters first hand is not a determination of what heater is effective and what heater is not. They may not be the right heaters for the application or they may not be installed optimally. What you do get is the feeling of the quality of heat, and you get the look of the heaters.
Our patio heating masters are happy to guide you through the process of patio heater selection and placement; while considering your goals, aesthetics, budget, and the practicality of gas and electricity. With our good advice, your guests will enjoy outdoor heated comfort, and you will maximize the returns on your investment.
Thanks so much for your support! Please call us at 707-345-4000 for great advice and the best outdoor heating solutions available!
© 2020 Alfresco Heating. All rights reserved. May not be copied or used without express permission