Posted by Eric Kahn on Jul 30th 2022
Whether you're at home on your own patio or offering an alfresco dining experience for your restaurant customers, patio heaters are an essential part of providing a warm, welcoming experience. Portable patio heaters work well in uncovered areas and also can provide the lowest start-up cost for covered areas compared to a permanent installation.
Heating a Single Dining Table
How can we best heat a single dining table? Portable mushroom heaters are a common sight. They are budget-friendly, temporary solution. But for a single table, there may be better choices.
By design, portable mushroom heaters cast heat in all directions. Placed next to a single table, only a small portion of the heat is directed toward the diners seated at the table. The rest goes out to the garden, the street, or wherever. Therefore, there are more-effective options for this kind of situation.
Better Choices
When you're heating a single table, you can heat more effectively and use fuel more efficiently by using the Bromic Tungsten Portable Propane Heater, which is directional, and delivers heat to the table from the side. If you get two you can put one on each side of a long table. In either case, most of the heat is directed towards the table, unlike a mushroom heater, which radiates heat in a circle.
Heating Multiple Tables
In restaurant environments, and for large events, multiple tables are needed. This is where traditional mushroom heaters shine. Omni-directional heaters work well between tables. You can count on a 10' to 15' diameter circle, depending on how windy it is, out of a good-quality gas patio heater. Cheap patio heaters won't provide as much heat.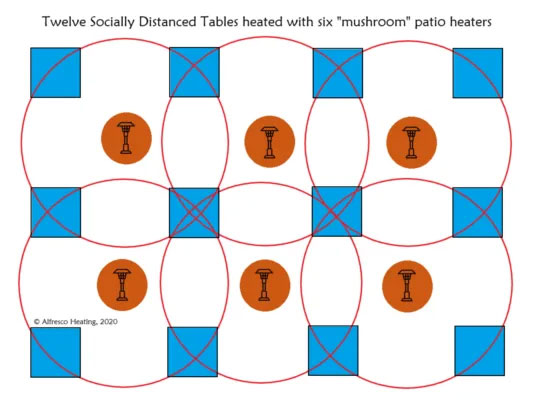 You can supplement with a heat source outside the rows and/or columns of tables with the Bromic Tungsten Portable, which works well at the edges of the dining area, directed inward.
Short Term, Mid Term, Or Long Term.
Consider your long-term plan. If you know you need portable heaters for the short term—a few months— but have a plan to install permanent heaters, or move inside, then our economical, medium-duty, lines of mushroom portables by Patio Comfort and SunStar can be a good choice. These heaters have one piece reflectors, one-piece 3" diameter poles, tight emitter grids, and base weights to keep them from tipping. (Cheap box store heaters don't.) We back up all the brands we sell with parts, support, and service.
We also like the parasolSchwank4005 CB. We recommend this model because of it's proven effective V-burner design, It's wide wheel base with sturdy 4" wheels, and it's direct spark to the burner - eliminating the pilot light means bugs can't climb in and clog it.
The long-term standard is the SunGlo A270SS. Purchase this model to handle years of commercial usage. SunGlo is the only made-in-USA portable propane patio heater.

Accentuate the Heat with Visuals
Gas flame tube heaters can attract people to your venue. One or two can be useful. Place them where people can see them—maybe by an entryway or off on a deck at a higher level where they catch the eyes of passers by. Pyramid heaters, and all torch flame heaters, say "warm" and "inviting" to prospective guests. However, these torch patio heaters are not very effective at producing heat past two to three feet from the heater, when in a wide-open outdoor area.
© 2020 Alfresco Heating. All rights reserved. May not be copied or used without express permission